Steve Bannon is coming to Brussels; don't hold your breath!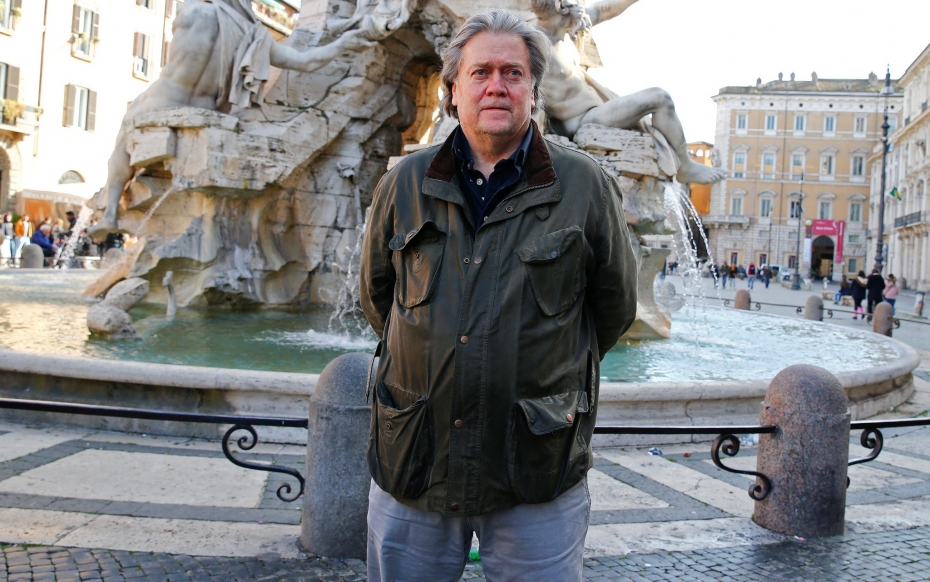 Alarm bells are ringing in the juste milieu of Europe's capital: Steve Bannon, the man who allegedly made Donald Trump President, is coming to town to shake up our already fragile political landscape, install an Alt-Right foundation and so help create a pan-European national populist movement, with a united 'supergroup' of up to 200 MEPs in the next European Parliament.
My advice is to stay calm, take a closer look at Bannon's record and then assess the chances of such a formation ever to emerge. That is because Bannon is not ten feet tall intellectually, because he has a weak understanding of European politics and above all, because there are a couple of important obstacles to a unified pan-European right-wing movement.
Bannon is only Bannon
Of course, Bannon's track record looks impressive: After all, he is the man who made Breitbart the social media flagship of the Alt-Right, who turned around the faltering Trump campaign in August 2016 and became chief strategist in the White House. But this is also the Steve Bannon who was spectacularly fired by the President for crossing the presidential family, and after mobilising Breitbart against the White House, was also fired from Breitbart.
This is the Steve Bannon who went on a European roadshow, but mostly disappointed his potential fans. And, most importantly, this is the Steve Bannon who is intellectually consistently overrated. Watching his arguably most important docu-propaganda film 'Generation Zero' of 2010, my first impression is that it is less scary than confused and bordering on the absurd.
Bannon doesn't get Europe
The botched attempt to install a continental version of Breitbart, masterminded in late 2016/early2017 by Steve Bannon himself, is a good example. Breitbart London is thriving (albeit without Bannon) whereas in Germany and France, it never managed to gain a foothold. Neither were US Alt-Right bloggers and trolls able to have any significant impact on the French presidential election, despite high-flying plans and announcements.
Besides the profoundly different cultural context between Europe and America, the most important obstacle is just that most European nationalists are also viscerally anti-American. Even the fact that Trump is, in absolute terms, arguably the most un-American of Presidents doesn't change this. In his mannerisms, he still represents the 'ugly American' Europeans love to hate.
And look at the way Bannon talks about money in the Brexit referendum: "When they told me the spending cap was £7 million, I go, 'You mean £70 million? What the fuck?!' £7 million doesn't … buy you Facebook data, it doesn't buy you ads, it doesn't do anything….Dude! You just took the fifth largest economy in the world out of the EU for £7 million!"
Money just doesn't play the same role in European politics as in the US, and thinking that it does simply means profoundly misunderstanding Europe. The fact that Marine Le Pen asked Bannon to speak to her Rassemblement National, doesn't mean that someone like Bannon can seriously charm the rank-and file European right winger.
There is no such thing as nationalist internationalism
Bannon compares his initiative to George Soros whose Open Society Foundation has supported liberal causes across Europe for more than two decades. That's a daring comparison, not only because of the different intellectual qualities of the two gentlemen, but most of all because Soros' open-border liberal activists will always form a much more coherent group of people than any bunch of spin doctors, bloggers and other digital natives whose point of reference is the nation state.
Translated into European party politics (and this is where Bannon is ultimately aiming), this means that a unified pan-European movement, let alone a nationalist group in the European Parliament, is so much harder to create than more centrist or leftist organisations.
Does anyone remember Declan Ganley, the English Irishman who 'won' the first Irish referendum in 2007 against the Lisbon Treaty, and whose pan-European Libertas Party became the bane of Brussels 'elite' cocktail parties before the 2009 European election? Ganley didn't manage to get a single MEP elected and is utterly forgotten today.
Make no mistake, of course the national populists are strong in the European Parliament, and bound to get stronger in 2019. But they are today split into 4 groups: The Tory-led European Conservatives and Reformists (ECR) with an uncertain future after Brexit; The Europeans for Freedom and Direct Democracy (EFDD) – essentially 5 Stars and Farage, therefore also unsustainable; the Europe of Nations and Freedom (ENF) with Wilders, Salvini, Le Pen; and a ragtag bunch of 'untouchables', often extremists.
They have achieved practically nothing in the past term, except nuisance, several financial scandals and making alliances between the others more difficult. It's true that, for example, Hungarian and Polish illiberals generally get along beautifully – of course, except for the Russia question and mainly because they are not direct neighbours.
Imagine Hungarian and Romanian nationalists, or German and Polish ones in one group. It would not be operational for long. Then consider how on economic philosophies and financial solidarity, northern and southern nationalists are literally at opposite ends of the spectrum in Europe.
Even on migration: they may agree on keeping migrants out but the last weeks have shown how populists and conservatives in Rome, Vienna, Munich and Berlin completely disagree on what to do about those migrants that are already 'in the system'- and there will always be some!
The only thing national populists in Europe can really agree on is weak European institutions and strong external borders. That is, plainly, insufficient to make a truly political force out of the pan-European populist movement that Bannon, or Viktor Orbán, for that matter, have been talking about.
To summarise, Bannon is less brilliant than he's made out to be, therefore he is unable to grasp Europe's complexities, and he also underestimates the difficulties in forming one coherent right-wing movement, let alone party. That doesn't mean that with some financing, which he has apparently secured, he can't do harm through tweets and memes.
But the great Bannon shakeup of Europe is unlikely to happen. Of course, I may be completely mistaken. And of course, in any event, we should calmly make the case for Europe (which is what we're doing at the Martens Centre, day in day out). But somehow, I fail to be nervous about Bannon in Brussels.
Photo source: Reuters