Central Europe: move from imitating the West to innovating!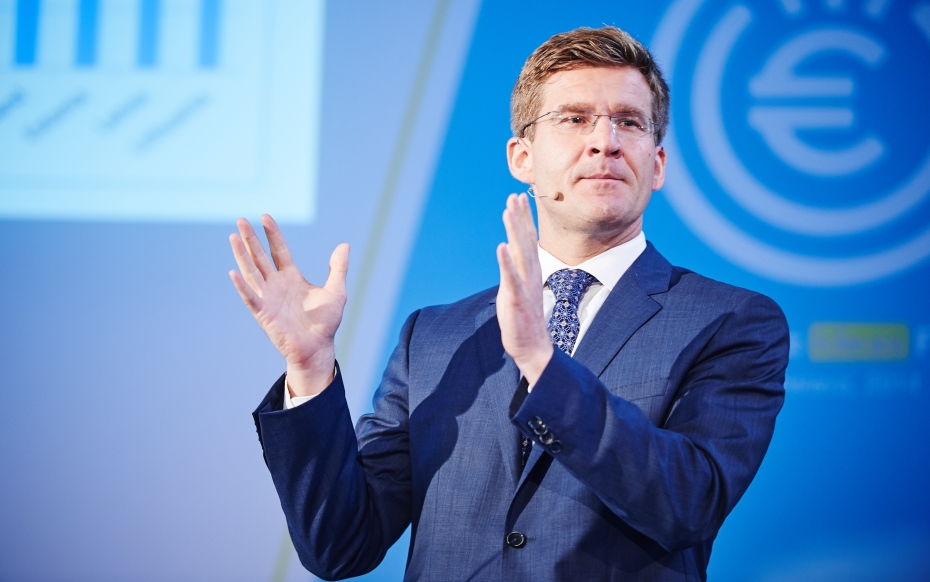 Marcin Piatkowski is a Senior Economist at the World Bank in Warsaw specializing in central Europe. He speaks about the historically unprecedented success of Central Europe in the last 25 years, especially that of Poland, argues for the need to adopt a new growth model called "The Warsaw Consensus" and offers insights on introducing the Euro in Poland and the surrounding region.
What are the prospects for central European economies?
In general, the new EU member states in central Europe have performed extremely well during the last 20 years. They have grown much faster than their western European counterparts. Poland, Slovakia and Estonia have developed much faster than most emerging markets. Poland, the most successful economy in Europe over the last quarter of a century, has grown even faster than the so-called Asian Tigers such as Singapore or Korea.
As a result of this historically unprecedented growth—central Europe has never grown so fast in the past—the average income across the region increased from about forty per cent of the average western European level twenty years ago to around sixty per cent now. Countries like Poland, Slovakia and Estonia have shortened the distance to the West to an extent never experienced before.
Quality of life is even higher than suggested by the level of income, as reflected in the relatively high life expectancy, easy access to modern technology and low levels of crime. In terms of technology, the region has even leapfrogged the West. For instance, in Poland there are more touchless credit cards users than in Germany. In most of Central Europe, citizens have never had life so good. Poland, Estonia and Slovakia have entered their new golden ages.
However, while prospects for continued growth and catching up are generally positive (according to the IMF, Poland, for instance, is projected to grow more than twice as fast as Germany at least until 2019) past performance cannot guarantee future success.
What reforms and policies are required in central Europe?
Central Europe will have to continually readjust its growth model to continue to catch up. Given the inherent economic potential, most of central Europe should be growing at four per cent or more a year rather than the current two or three per cent. The speed of growth will decide whether central Europe will catch up with western Europe within a single generation or if it will take much longer. In the worst case scenario, the convergence process could stop altogether.
Central Europe needs to base its growth on a re-adjusted economic model which I call 'The Warsaw Consensus'. It is based on ten policy pillars including inter alia domestic savings; high employment; labour markets open to immigration; strict supervision of the banking sector and a new focus on well-being rather than only GDP. Among other policies, central Europe has to continue to focus on employment, education, and innovation.
First, central Europe needs to substantially raise the employment rate: today only two out of three people work, while in the West it is three out of four. Raising the employment rate to the western European level would help accelerate growth; reduce inequality and improve the long term fiscal situation. Labour markets have to offer jobs to every one capable of working.
Second, the quality of education needs to increase further. While many countries in the region have achieved a remarkable improvement in primary and secondary education, the quality of tertiary education still leaves scope for improvement. There are no central European universities that belong to the global elite. This needs to change if the region wants to start to compete with the best global minds.
Finally, central Europe needs to enhance innovation. This is a significant challenge, as technological innovation has never been a strong part of the region's DNA. There are only few examples of global innovations developed by central Europeans, however, most of them have not been commercialised, as in the case of Copernicus or Marie Curie-Sklodowska. Central Europe, now, has possibly the last chance to use another fifteen billion euro of EU funds available to support innovation until 2020 to adjust its economic DNA to move from imitation to innovation. From quantity to quality. From importing to exporting ideas.
How will the ageing population affect future economic development?
The challenge is that we may grow old before we grow rich. That being said, increasing life expectancy is the best outcome we could desire because the ultimate goal of economic growth is to allow us to live longer and healthier lives not the other way around. However, when talking about demographic changes we are missing one very important variable which tends to be pushed aside: immigration. The fertility rate across the whole region is low, below 1.5 children per woman. We would need a fertility rate of 2.1 for the generations to simply replicate themselves. We thus need to enhance our pro-family policies to make sure that the fertility rate increases.
However, due to cultural changes and a new family model, I am convinced that pro-family policies alone will not be sufficient to achieve the replacement fertility rate. Germany, which spends over ten times more on pro-family policies than Poland, has a similarly low fertility rate. More money will not solve the problem. It will thus be inevitable to fill the demographic gap by opening up to immigration. Central Europe should invite young people from all around the world to fill the increasing gaps in labor supply.
This could start from eastern Europe, whose citizens could integrate into our labor markets and societies with relative ease. The same passion with which we attract foreign direct investment, FDI, we should also deploy to attract foreign human investment: FHI. Highly-educated, young, entrepreneurial and energetic people should be our targets. An optimal way to attract young immigrants would be to open central European universities to foreign students.
Why Poland seems to be now more successful than other countries in the region?
It is likely due to a couple of factors. Poland, unlike all the other countries in the region, is a large economy, representing 40 per cent of the region's GDP. It's more than twice as big as the Czech Republic and three times as big as Hungary. Such a large economy has allowed Poland to base its growth largely on domestic rather than external demand, insulating the economy from external shocks.
Second, Poland started from a much lower income level. Back in 1989, it was one of the poorest countries in the region, behind Hungary or the then Czechoslovakia. It's easier to grow when you start low, as in seen also with China.
Third, Poland witnessed a truly historical expansion of tertiary education. In 1989, Poland had 400,000 students. Today it has 1,600,000 students. Almost sixty per cent of young Poles are now taught at a university level. The quality of education is close to the European average. Poland has also done a lot to improve primary and secondary education.
When you look at the OECD Pisa study that looks at the quality of education of 15 year olds around the world, Poland is doing extremely well: Polish 15 year olds are better educated that most of western Europe and the US even though Poland spends less than half on a student than in the West. If I were to exaggerate a little bit, I would say that Poland is producing geniuses on the cheap.
Finally, from the very beginning Poland was lucky with the quality of its economic policy makers, who were competent, committed and honest. They also knew where they were going: towards Europe and joining the EU. They knew that Poland needed to become more open, more liberal, more entrepreneurial and more Western. Throughout the last 25 years there was an implicit consensus among all the parties both in power and in the opposition that Poland needed to become "European" again. And it has worked well.
Were you never challenged by Euroscepticism as seen in Hungary or the Czech Republic?
Poles are quite supportive of the EU. 80 percent of Poles support the EU. They have seen the benefits of EU accession and how the European convergence machine continues to work, taking in poor countries and making them rich. They have become the most European among all the Europeans. Had it not been for the institutions, values, norms and funds that Poland has received from the EU in the last twenty five years, it would have never achieved such remarkable success and never entered its new Golden Age. Poles are supportive of the EU also for geopolitical reasons.
Do you still believe in the big bang introduction of Euro as you wrote in an article for the Financial Times in 2008?
What I meant in this article was that at that time there was an opportunity to introduce the Euro to more countries on the condition of strengthened fiscal rules. I also argued that the exchange rate criterion for euro zone entry, i.e. the ERM II mechanism that requires countries to keep their currencies within a +/-15% band relative to the Euro, could be a challenge, especially for countries with floating exchange rates such as Poland. This is because entering ERM II would expose them to potentially destabilizing currency attacks.
The vast fluctuations of the Euro itself against the dollar show how hard it is to keep the exchange rate stable in the context of globalized currency markets driven by portfolio flows. The risks are particularly high for the Polish Zloty, which is the most liquid currency in Central Europe and a currency of choice for global speculators. Successful passage through ERM II would then require very careful planning and strong support of the ECB.
But do you still think that the best way is: "Euro as soon as possible"?
The introduction of the Euro cannot take place overnight but it is still the way to go. The euro would help to further enhance macroeconomic stability in the region, expand trade and increase private investment. It would thus help accelerate growth and allow Poland to catch up with the West faster, the current situation in the Eurozone notwithstanding. Central European countries that have already adopted the euro are on the whole doing well.
However, before entering the euro zone, countries like Poland first need to do their homework. This includes sustainably reducing budgets deficits to below 3 per cent, keeping public and private debts in check and reforming the economy so that its competitiveness is increasingly based on quality rather than quantity. Fewer potato chips, more micro-chips.
Interview by Vladka Vojtiskova. The interview presents personal views only.
Dr. Marcin Piatkowski was a speaker during the fifth annual Economic Ideas Forum that took place in Bratislava on 16-17 october 2014. He is a Senior Economist at the World Bank in Warsaw, former Chief Economist of PKO BP, the largest bank in Poland, economist in the European Department and Advisor to Executive Director at the International Monetary Fund in Washington D.C. He is an Assistant Professor of Economics at Kozminski University in Warsaw. He also served as Advisor to Poland's Deputy Premier and Minister of Finance. He has recently published papers on "Poland's New Golden Age: Shifting from Europe's Periphery to Its Centre" and on "The Warsaw Consensus: The New European Growth Model" He tweets using @mmpiatkowski and can be reached at mpiatkowski@worldbank.org