The centre-right flame burns in Madrid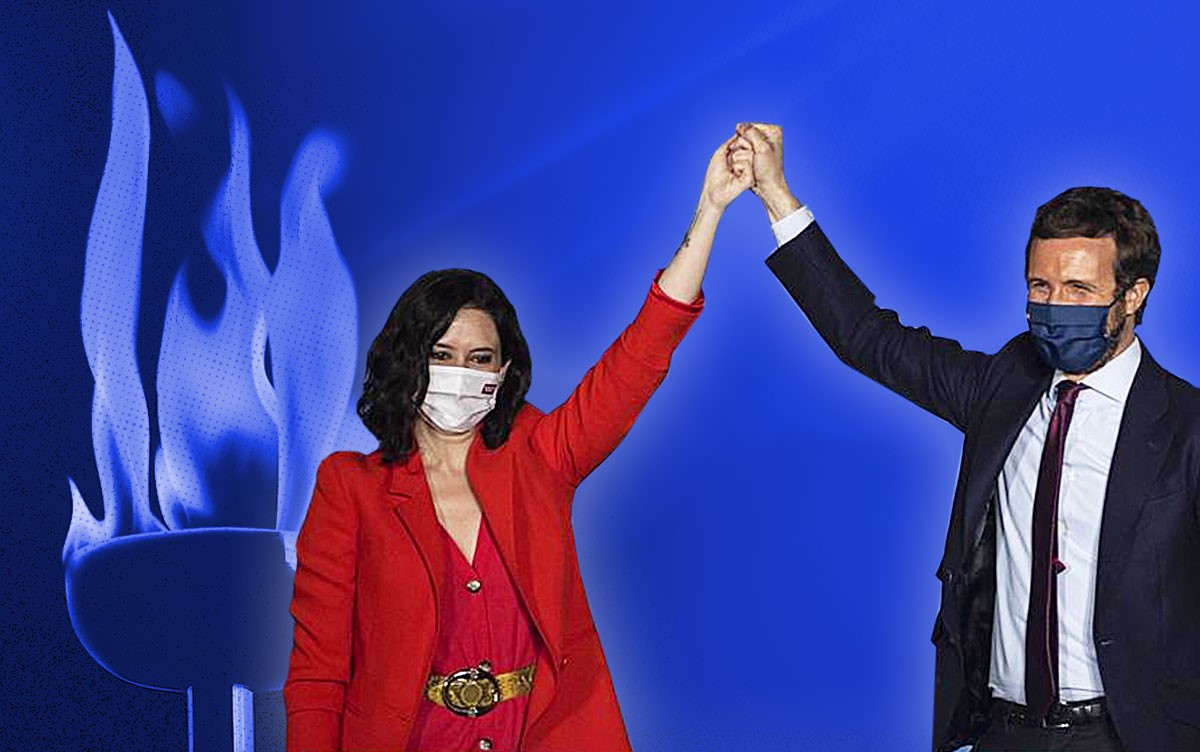 29 June, 1995; nearly 26 years ago, the conservative party Partido Popular was elected to the government of the Spanish capital region. They have not left the ruling office since. And they will not do so until at least 2023, with the situation seeming like there is still a long way to go before the left can regain their long-lost centrum.
26 years is a long time (back then, the PlayStation 1 was still the premier video game console!), and the robust victory by PP's Isabel Díaz Ayuso this past Tuesday, 4 May, may let us think that Madrid is simply a conservative region and that there is not much to be analysed here. The truth is that only two years ago, Partido Popular fielded the same candidate (for the first time then) and the party's main competition, the socialist PSOE, ran the same candidate as they did last Tuesday. Back then, the Socialists took 37 seats to PP's 30 in the regional parliament and took 27% of votes (22% for PP). This week, the conservatives more than doubled their 2019 result, while the socialists dropped by over 10 points.
What changed so dramatically in just 2 years? A global pandemic happened. In the most decentralised country in Europe, our regions have quite a big autonomous power, and the nearly year-long national 'State of Alarm' did not change that much. This made the measures to fight COVID-19 quite heterogeneous among the 17 regions of my Iberian homeland, especially after the first wave of the pandemic. And Madrid stood out in a clearly differentiated way.
Last Autumn, Madrid's regional government decided that every business and sector of activity that could remain open would. They launched an original approach, based on massive testing campaigns and small, partial lockdowns by districts. Here is a blog post from two months ago with detailed information on the singularities of the COVID fight in Madrid. This approach made it possible to reach a few important milestones for the region: in the last quarter of 2020, Madrid's economic growth was 9 times bigger than the national average, it is the only Spanish region to have experienced a solid employment recovery, and it became the richest region in the country for the first time, overtaking Catalonia in terms of GDP, despite having a smaller population. All these benefits, without a worse outcome in terms of COVID-19 deaths, hospitalisations, or infection rate.
Then, in early spring, Spanish political hormones went a little bit crazy and PP's preferred partner, Ciudadanos (Renew Europe), aligned with the socialists in a motion of no-confidence against their own coalition governments with PP in the South-eastern region of Murcia and North-western region of Castilla y León. Before it could also happen in Madrid, the regional president and party leader, Ms Díaz Ayuso (or simply Ayuso, as she is commonly referred to), dissolved parliament and called for early elections. 54 days later, Ciudadanos no longer exists in the regional landscape and Ayuso and PP robustly defeated the parties of the national government coalition, PSOE and Podemos.
Why did so many people vote for the centre-right this time, despite having voted for the left two years ago? Of course, the 'Freedom' (Ayuso's political slogan in this campaign) to continue doing business, socialise, go to bars, restaurants, concerts, or museums, while most of the rest of Spaniards could not, created a major incentive to vote for her. But also the relatively good economic data, not only during the pandemic but also in recent years, during which la Comunidad succeeded in attracting many national and international businesses with its soft taxation on both companies and income, its great infrastructure, and quality of life, have made its citizens appreciate liberal policies much more than in other Spanish regions.
Madrid is a rich, dynamic, diverse, and socially free society. Capital of the World Pride, not only is it one of the most LGBT-friendly regions in Europe, but also one of the most welcoming destinations for both tourists and workers from around the world. Its model attracts businesses, but also talent, individuals, and families looking for a safe, warm, and prosperous place to call home. Because of all of the above, the strong and direct character of Isabel Diaz Ayuso – who has become a true pop icon- and because of the poor management of the leftist national government, a majority of Madrilenians voted for Partido Popular and sent a strong message to Pedro Sánchez and his party: we are back!
The immediate future of the party on a national level is yet to be determined. Still, polls indicate that the party is growing firmly and that a national election, if held today, would probably result in a tie between the socialists and Partido Popular, with an uncertain outcome regarding the strength of left and right blocks in the parliament. In any case, two days before the regional election, on 2 May, Madrid celebrated its local festivity, on the anniversary of the uprising against the Napoleonic occupation, marking one of the first ever defeats of the greatest army in the world, La Grande Armée. Back then, in May 1808, the citizens of Madrid lit a flame that would begin the fall of Napoleon and his empire (ABBA did not make a song about it, but it was much more epic, believe me). I am optimistic that this 4th of May of 2021 will also be a historical event, during which the people of Madrid lit another flame, relaunching the centre-right project of not only Partido Popular, but also every EPP member party, whether in Poland, Ireland, France, or Slovakia. Do not let the flame die and join us, Madrilenians, in shouting out: we are back!