I say Europe, you say…? Interview with EP Vice-President Ramón Luis Valcárcel
I say Europe, you say…?
Solidarity.
Hans-Gert Pöttering's question to you was: How do you see the relations between the regions in Spain and the Spanish state in the framework of the EU?
The Autonomous Communities and the Autonomous Cities of Spain count on a wide variety of institutional solutions, such as the Conference of Presidents, together with the Conference for Matters related to the European Communities. They serve as a valuable platform to coordinate and represent the interests of the regions at the EU level.
Likewise, the Committee of the Regions provides for a framework within which local and regional authorities can make their voices heard at the European level. In this sense, the relations are dynamic and can be incremented anytime there is a special issue or concern on either side.
What was the most interesting myth about the EU you needed to bust in your career?
Some think MEPs are always flying first class, with the most renowned airlines. Well, I am an MEP and I can tell you that, 90% of the time, we fly economy class or use low-cost companies.
What is your strategy to improve the way in which the EU is being communicated?
The European Parliament efforts towards engaging millennials through apps such as Snapchat, Instagram or Facebook are indeed remarkable.
However, many citizens still use printed media, radio and the vast majority still gets its information from the television, so we have to make sure that we keep providing both with the sufficient high-quality content. We have to focus on translation: not all citizens speak English or French, and therefore more effort should be put on making information available for them in their own language.
Simultaneously, in times when fake news are the new propaganda technique, the EU should not just focus on unmasking the so-called "alternative facts" but also on offering a resilient counter-narrative. We have a myriad of good stories to tell, of success examples to share. So let's all tell them, let's all share them!
What was the last book you borrowed from the Parliament's library?
It was Resolving Cyprus: New Approaches to Conflict Resolution. I borrowed it in December and I have already renewed it twice. Achieving a comprehensible solution for the Cyprus issue would benefit not just the population of the entire island, but also the EU as a whole. It is something we all need.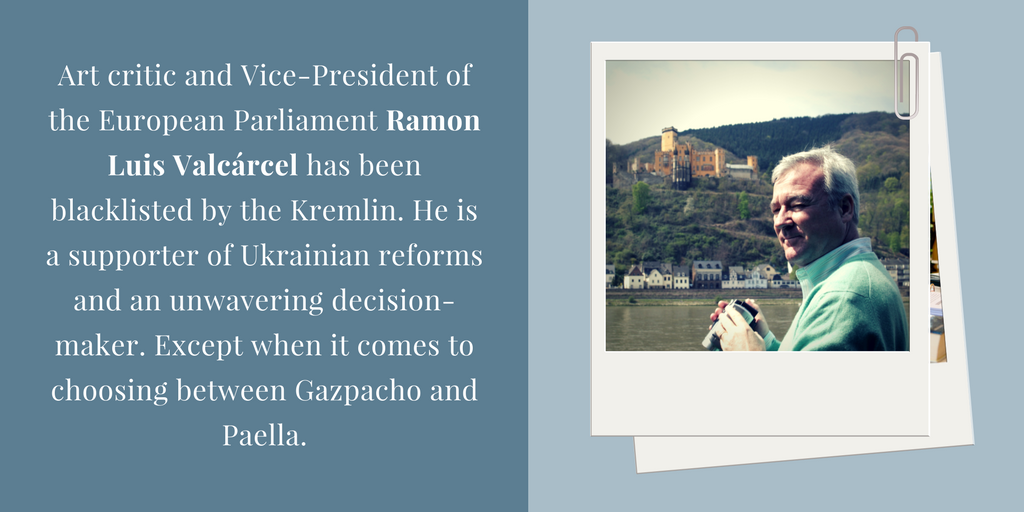 Tell us a not-that-good movie that is a "guilty pleasure" for you.
A Man for All Seasons is definitely my favourite movie. But I would like to draw the attention to the films of "Paco" Martínez Soria, as they are emblematic of post-war Spanish cinema.
I am referring to the genre of the 50s, 60s and 70s that was endearing, warm, considerate, homey. These movies never won Oscars, but have always accompanied us, Spaniards, in our path to reconciliation, peace, democracy and prosperity.
What was your first job?
At the young age of 20, when I was still in university, I opened my own art gallery in my hometown, Murcia. I did not have money, but I was lucky enough to share a passion for art (I'm an Art History graduate) with a friend who did. He put the money and I put the knowledge. Our gallery, which we called 'Mica', eventually became one of the most prestigious in the region.
Which should be, in your opinion, the main targeted areas in which the European Structural and Investment Fund should create jobs and growth?
At the core of this policy are the Smart Specialisation Strategies. By fine-tuning our regions' specialisation priorities –encouraging local, regional and national authorities to pursue evidence-based policy strategies- we improve the efficiency of the way in which public money is spent.
If I had to pick two flagships for job creation, I would go for SMEs and youth. As well as boosting our SMEs' competitiveness, effectively responding to the high levels of youth unemployment in Member States is vital to enhance a sustainable and inclusive model of growth.
If you would need to participate in a karaoke contest which song would you sing? Which MEP would you pick for a duet?
Singing is not my strongest point. But if I had to pick someone to sing with, that person would definitely be my colleague Carlos Iturgaiz. He is a real music master. And we would go for something from It's happening! featuring Diana Ross and Neil Diamond.
Why should defence research be a strategic priority for the Union, in your opinion?
In a world constantly evolving, where change comes rapidly and in which uncertainty is now a commonplace, advancing in research and technology in all areas but especially in Defence and Security is of vital importance for the EU to remain autonomous, to maintain independence from third actors. Strategically speaking, research should be a priority in all areas but especially within the EU's defence package.
What is your life moto?
Call it a life moto, call it a way to face life on a daily basis. When someone asks me how I am, I always respond: "I'm good, and feeling signs of improvement". Looking at the bright side of life has always worked out to be the best possible approach.
How did you manage to make it on the Kremlin's blacklist?
The reason for me being (still) on Putin's blacklist is pretty simple: standing with the people of Ukraine and not with those who were giving orders to kill them. In 2014, at the beginning of the Euromaidan movement, I travelled to Kyiv in my role of President of the Committee of the Regions, the post that I held at that time. The official programme of my visit included a meeting with government representatives, but the dramatic events that happened at the Maidan while I was there changed the course of things.
What should the EU's strategy in tackling the situation in Eastern Ukraine be?
The European Union is with the people of Ukraine. It is at their side. And it remains committed to trying to make sure that the conditions in the country improve. The EU has repeatedly called for the full implementation of the Minsk agreements in order to provide for a real beginning of the peace process.
The role of the EU is to actively engage in supporting and assisting Ukraine in its remarkable reform effort, while trying to achieve a better security situation for its people, especially in the East.
Sailing or cycling?
Sailing. Just for the sake of feeling as free as a drop in the ocean.
Gazpacho or Paella?
I could not possibly choose one. It would be like asking a parent to choose his favourite child. So I would say gazpacho for starters and paella as main course.
Analogue or digital camera?
As a photography lover, I go with both and decide on the spot depending on the situation. Analogue works better for portraits, probably. But when it comes to editing, digital photography is a must.
Which EPP Group colleague would you suggest for our next interview? What would be your question for her or him?
Eva Paunova. First of all, I would like to take this opportunity to congratulate her on her recent marriage. And second, I would like to ask her how she thinks the EU could better contribute to equipping our youngsters with the digital skills needed to thrive in the digital context.
I say Europe, you say…? is a series of candid interviews with centre-right movers and shakers of the European project. From legislative work to food preferences, from weekday causes to weekend hobbies, we show you the human face of EU politics and its main protagonists.