CES proud Forum Partner of the 2013 Brussels Forum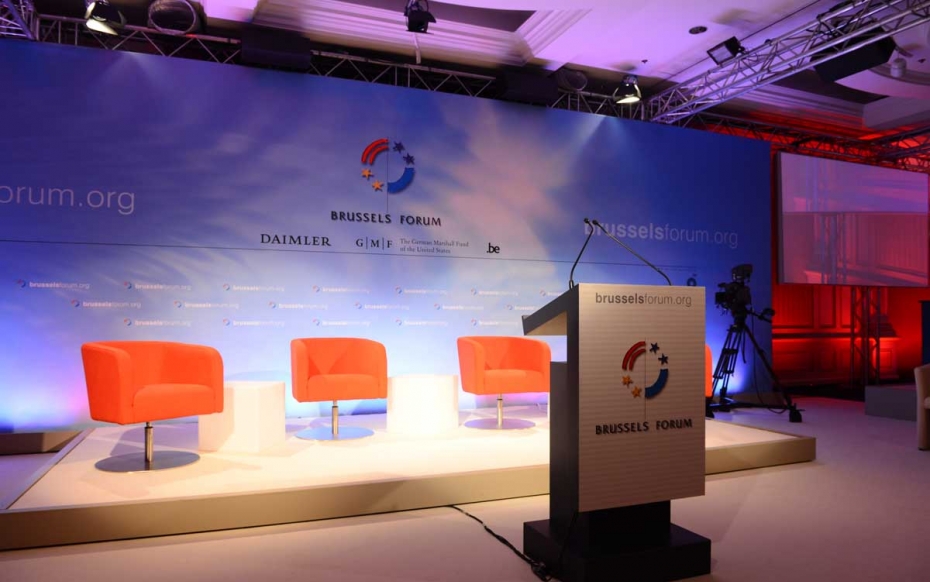 The Centre for European Studies is proud to participate in the 2013 edition of the Brussels Forum organised by the German Marshall Fund of the United States, an event that will take place in Brussels during March 15-17, 2013.
The Brussels Forum is an annual high-level meeting of the most influential North American and European political, corporate, and intellectual leaders to address pressing challenges currently facing both the EU and the US. Participants include heads of state, senior officials from the European Union institutions and the member states, U.S. Cabinet officials, Congressional representatives, Parliamentarians, academics, and media. The Brussels Forum has, since its first appearance in 2005, become the most important annual Brussels-based international conference on global politics, security and economics. The number of participants regularly exceeds 400 participants.
As part of this year's event, the Centre for European Studies is organising a breakout dinner on Saturday, March 16 on the future of democracy support in the EU's neighbourhood. In the East, the colour revolutions of the 2000s have given way to increasing authoritarian tendencies. Countries such as Ukraine and Georgia seem to turn away from the West. In the Middle East and North Africa, the enthusiasm of the initial Arab revolts of 2011 has fizzled out. While Syria is steeped in civil war, liberty seems to be threatened again in Egypt and Tunisia. Several economies are in free-fall. What can the EU do to better support democratic developments in its neighbourhood? Which new instruments and methods promise better results than what we could achieve in the last 8-10 years? Tomi Huhtanen, CES Director will deliver the welcoming remarks and Roland Freudenstein, CES Deputy Director and Head of Research will moderate the debate between high level experts and Forum participants.
The CES participation in the Brussels Forum adds to the importance that the Centre attaches to transatlantic issues. As part of the transatlantic research agenda, the Centre for European Studies regularly publishes studies and organises events with experts and senior officials from both sides of the Atlantic; one of the most important events of this kind is the Transatlantic Think Tank Conference, a conference which takes place every year in Brussels and Washington.
For more details concerning the 2013 Brussels Forum and to follow the livestreaming of the public sessions, please visit http://brussels.gmfus.org/.
[Picture source: Brussels Forum 2012 Flickr gallery]