I say Europe, you say…? Interview with Christos Stylianides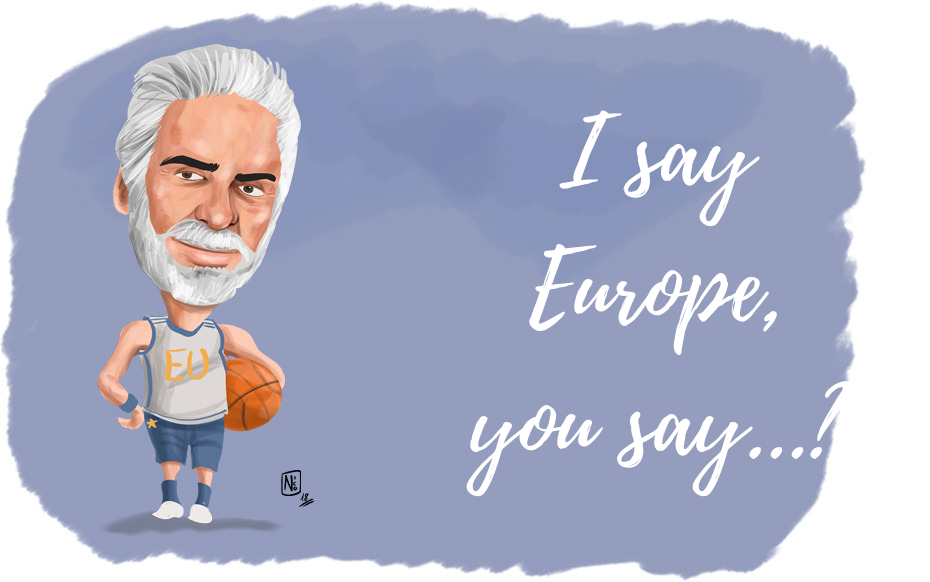 I say Europe you say..?
More Europe! More solidarity! More communication! Why not, more humanity?
You have said that education is an often-overlooked element in emergency planning, and the EU has recently increased its budget for education in emergencies.What would you say are other key areas that fly under the radar in crisis management?
Education is the foundation of everything else. It is a human right, but it has also become a basic need. Over the last 4 years, increasing the EU humanitarian aid budget for education in emergencies has been my number one priority. Because education in emergencies remains one of the most underfunded sectors in humanitarian aid. I am proud to say that in 2019 we are investing 10%, compared to 1% in 2015, of our humanitarian funding to education in emergencies.
The European Union is leading by example. One other key area where we have to do more — and we are doing more — is gender-based violence in emergencies. Gender is already an essential component of the EU's humanitarian actions, through our Gender Action Plan, for instance. Putting an end to gender-based violence is a precondition for gender equality.
We demonstrated the EU's engagement to fight gender-based violence by undertaking the leadership of the Call to Action on Protection Against Gender-Based Violence in Emergencies for 1.5 years. Under our leadership 18 new partners joined the initiative, raising the number to 82. But much more needs to be done. Only international partnerships will turn words into actions. In this spirit, we have set up, together with the United Nations, our important "Spotlight Initiative" which addresses gender-based violence at the global level.
As a commissioner, you spend a great deal of time travelling. What's your go-to meal when you get back home to Cyprus?
I miss the taste of many Cypriot delicacies. I am fanatical about Mediterranean cuisine! I miss the meze plates like seftalia, grilled halloumi, Cypriot ravioli and the unique taste of Cypriot vegetables.
What role will rescEU play in adapting to increased natural disasters brought on by climate change?
You are absolutely right in raising this issue: because of climate change natural disasters have become more frequent, more intense, more unpredictable. And they often happen simultaneously. rescEU is a sensible evolution of our current EU civil protection system which, admittedly, has reached its limits. It was created in another time for another time. Business as usual is no longer an option. European citizens expect action.
rescEU is an investment in disaster response. We are upgrading our response equipment through increased EU funding which reinforces our collective ability to prevent, prepare and respond to disasters. Equally important, we are cultivating a shared culture of prevention. Without strong prevention and preparedness no amount of response equipment will ever be enough. rescEU is a "safety net" to be activated in exceptional circumstances, when national capacities are overwhelmed. Ultimately, with rescEU we are strengthening European solidarity.
You worked as a dental surgeon before you entered politics. Which is more important, flossing or brushing?
As you know, now I am a Commissioner. So, it would be a "conflict of interest" to give professional medical advice! But, all ads recommend the value of both. So, do both! And "follow the rules"!
The EU just announced it will provide 120 million to Yemen and 50 million to Iraq in humanitarian and recovery aid in 2019. What are the EU priorities for the humanitarian and recovery aid in non-EU countries over the next number of years?
Syria remains one of our main priorities. We recently organized the Third Brussels Conference for Syria. I am proud that, under the leadership of the European Union, the international community came together and mobilized a record 8.3 billion Euros for 2019 and beyond, out of which, 6.79, is the contribution of the EU and its Member States. We are committed to continue helping the Syrian people for as long as it takes.
One of the biggest challenges is, of course, Africa. In Africa, we see a massive humanitarian crisis with multiple dimensions, including poor governance and corruption. I have been on the ground in many places hit by conflict and disasters such as droughts. I spoke to the victims of armed conflict and rape. Devastating conversations. Ones you never forget.
I will never forget my visit to the Panzi Hospital in the Democratic Republic of Congo and my conversations with my friend Dr. Denis Mukwege— the recipient of last year's Nobel Peace Prize. A doctor that does an admirable job under extremely severe conditions. Africa needs a global strategy to address these immense challenges. A comprehensive plan that mobilises the best ideas from the best minds from every sector of society.
We must address, for example, Africa's demographic explosion. What some call "a ticking time bomb". Africa as a whole is projected to nearly double in size by 2050. And, of course, we remain vigilant about Ebola. We are following the latest Ebola outbreak in the DRC very closely. I am in a regular contact with the Director General of the World Health Organization.  Here again the European Union is leading by example, providing the necessary support in terms of funding but also of expertise. I assure you that we are not complacent.
What is the most interesting myth about the EU you needed to bust in your career?
The myth that European integration destroys, on purpose or by default, national identities! That the European project is an enemy of our distinct identities. Nothing could be further from the truth. Our Europe is rich and blessed because of its diversity. This is our strength. Yes, as Europeans we have two kinds of patriotism. Our national patriotism, our national identity and at the same time, our European identity, our European patriotism. These by no means contradict each other. On the contrary, they perfectly complement each other.
In a recent speech, you said that "steady progress is possible by joining forces". How can the EU reduce obstacles to cross-border cooperation in responding to increasingly frequent flooding, forest fires, etc that do not respect national boundaries?
In today's complex global reality it's an illusion, a dangerous illusion, to think that a single state can face challenges and make progress alone, in isolation. This principle applies especially to climate change and its devastating consequences. When it comes to climate change, we are all in the same boat.
With rescEU we are fostering greater solidarity among our Member States, through collaboration. We are building a shared culture of prevention from the ground up by streamlining our communication networks, and by sharing innovative techniques and best practices all across Europe. Moreover, through rescEU, we are offering new financing opportunities for cooperation projects in prevention, preparedness and response.
Our a new Union Civil Protection Knowledge Network, for example, offers opportunities for cooperation on training, research, innovation and knowledge-sharing. We are also building on the already strong record of cooperation in place in regional exercises, like the Modex Exercises in Romania and Austria in 2018 and the upcoming one in Croatia.
Which NGOs have been the most pro-active ones in helping on the ground with the aid delivery?
I am very pleased with the cooperation and coordination we have with all our humanitarian partners on the ground. Each one, based on their capacities and expertise, provide an invaluable service in making sure aid is delivered, even in the most hard-to-reach areas. Many times under extremely difficult and dangerous conditions. Aid delivery is a big responsibility and a big challenge. I pay tribute to all the humanitarian workers who risk their lives, on a daily basis, to save the lives of others. Their bravery is unparalleled.
Could you name 3 Commissioners you would invite to dance syrtaki?
All of my fellow Commissioners are excellent dancers! I have seen it with my own eyes. So, all would be eligible partners to dance syrtaki with me. This College of Commissioners is the "crème de la crème", even on the dancefloor!
This year we took our Economic Ideas Forum to Cyprus and one of the panels will reflect on the economic success of Cyprus as a template from the Eurozone to the MENA region. Could you tell us what were, in your view, key ingredientsto the Cyprus success story?
We all came together: the government, parliament, civil society, the business community, the workers. We saw the necessity to work together. Through our painful experiences, we realised the value of the European framework. We really focused on the implementation of the programme. Cyprus realised that Europe is our only shield in our most difficult times. It is our family. We are proud to be part of the European family.
Choose one of the following: halloumi or belgian fries?
Halloumi. But I can't resist Belgian fries!
OSCE or UN?
Both. The UN is the umbrella of the multilateral system. Both together are parts of the safety net for peace, prosperity and stability in the world.
Cypriot wine or Belgian beer?
Cypriot wine in Old Town Nicosia and Belgian beer in Place Luxembourg in Brussels.
Which EPP colleague would you suggest for the next interview? What would be your question for her or him?
All of my EPP colleagues are very knowledgeable, spontaneous and excellent communicators. Ready to answer any question, any time. So, feel free to interview any one of them!
I say Europe, you say…? is a series of candid interviews with centre-right movers and shakers of the European project. From legislative work to food preferences, from weekday causes to weekend hobbies, we show you the human face of EU politics and its main protagonists.