A genuine Economic and Monetary Union: Five key takeaways from the Tatra Summit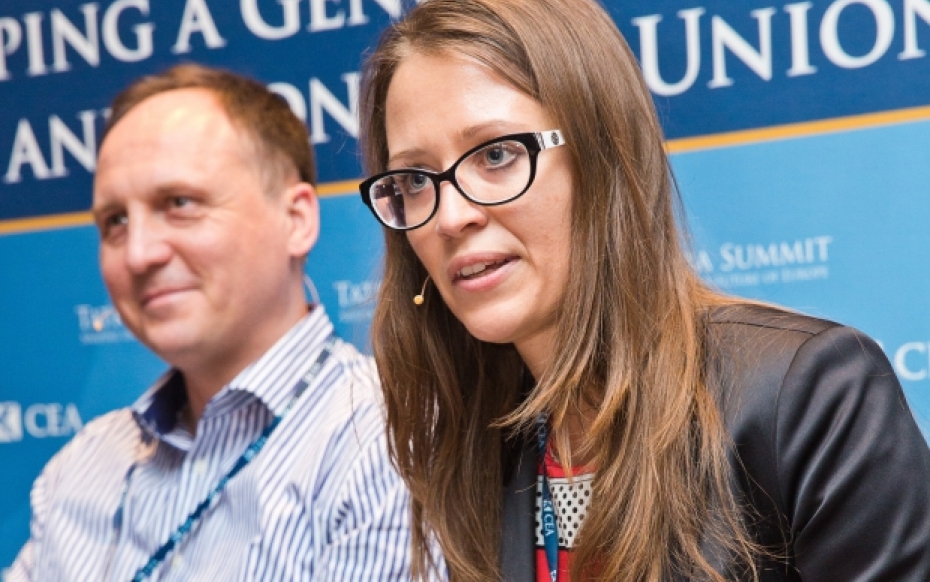 If the eurozone had a facebook page, it would have changed its status last year from single to it's complicated. European leaders had neither time for a spring fever, nor a summer break. They fell into a spiral of emergency summits adopting immediate decisions to save their economies and the eurozone's single status. Amid this challenging context, political leaders, leading economists, analysts and businesses met last month to discuss the future of Europe at the Tatra Summit in Bratislava; under the title "Shaping a Genuine Economic and Monetary Union", the event was the first international conference organized by the new kid on the EU-policy scene, the Center for European Affairs, in cooperation with other like-minded organisations in Europe, including the Centre for European Studies as a main partner.
I was there and chaired a session on the upcoming edited volume of the CES and its member foundations, entitled 'From Reform to Growth: Managing the Economic Crisis in Europe.' This book looks at the financial and economic crisis in Europe, detailing and comparing the different measures taken to handling this crisis in different countries and regions, and providing a centre-right narrative on approaches to the crisis. The volume is due to be published in late May.
Whoever thought that Slovakia was too small to absorb two big international conferences per year proved to be wrong. The Globsec security conference, which is to take place in Bratislava this April again, has in recent years become one of the leading security conferences in Europe. Without any tradition, the Tatra Summit has also been able to attract a solid number of high-level speakers and participants to Bratislava. Here are my five key takeaway points from the conference:
1. Europe has not been hit by one crisis but by multiple, intertwined crises: financial and economic crisis, banking and debt crisis, eurozone crisis, with all these resulting in a political crisis. These crises have brought to light the "known unknowns" and the "unknown unknowns", as one leading speaker explained at the conference. Even prior to the crisis, it was clear to everyone that there was a rather strong economic asymmetry between the individual members of the monetary union. What was however unknown, was the degree of the financial fragility of the Economic and Monetary Union (EMU).
2. Because of the always existent unknown unknowns, the future crises cannot be prevented. Nevertheless, as Professor Sklias from the University of Peloponnese in Greece underlined, there's hope that Europe is better prepared today. We not only know that the crisis is a real thing and not a myth, but we have also improved the EU's financial infrastructure. For example, the steps towards the creation of a banking union among the eurozone members, and possibly other EU countries, are steps in the right direction; however, its functionality has not been tested yet and belongs to the unknown unknowns.
3. There was a broad consensus among conference participants that "every crisis in Europe always ends with more Europe, never with less Europe." However, more Europe, according to Harald Waiglein from the Austrian Ministry of Finance, needs better coordination, more flexibility of labour, capital and prices, enhanced capacity, joined liability for debt and a functioning last resort facility. Nevertheless, it remains to be seen whether a genuine EMU is a realistic scenario due to the different economic realities of its members and a general understanding that one size does not fit all.
4. Unlike widespread consensus on "more Europe", the conference uncovered different approaches among participants towards fiscal consolidation and growth. Slovakia's Finance Minister Peter Kažimir has been one of the strongest opponents of the growth-friendly fiscal consolidation. According to him, any fiscal consolidation is always bad for growth. On the other hand, ECB Board Member Jörg Asmussen believes that one has to look beyond a short-term perspective because a responsible fiscal consolidation leads to sustainable growth in the medium and long-term.
5. Crisis recovery is not a sprint, it is a marathon. Fiscal recovery is just the first part of the story. Only at a later stage will the improvement on the financial front gradually lead to the improvement of the real economy, the social situation and political stability. Moreover, the level of patience and trust of Europeans in their politicians has never been as low as now, so political recovery is very likely to take even longer than one would imagine. To restore people's confidence, Europe needs to reform. Drastic spending cuts and tax increases will not do the job but the structural reforms in the healthcare, social and pension systems as well as education reform could be a solution.
A small caveat to these five points: what the conference slightly lacked was a more clear Central European dimension. I would have liked to hear Central European speakers to tell us whether there is something like a common Central European vision on the future of Europe and the economic and monetary union, and to explain whether and if so, what the old Europe can learn from the new Europe.
Nevertheless, there is no doubt that the first Tatra Summit was an icebreaker in bringing the European debate closer to European citizens by moving it from the usual Brussels' comfort zone to another EU and eurozone capital. I am positive that the Tatra Summit will become a known brand in Europe and will, the next time and among many other issues, offer a stronger Central European perspective.
[photo source: Centre for European Affairs]