How will the Corona crisis shape the future of Europe?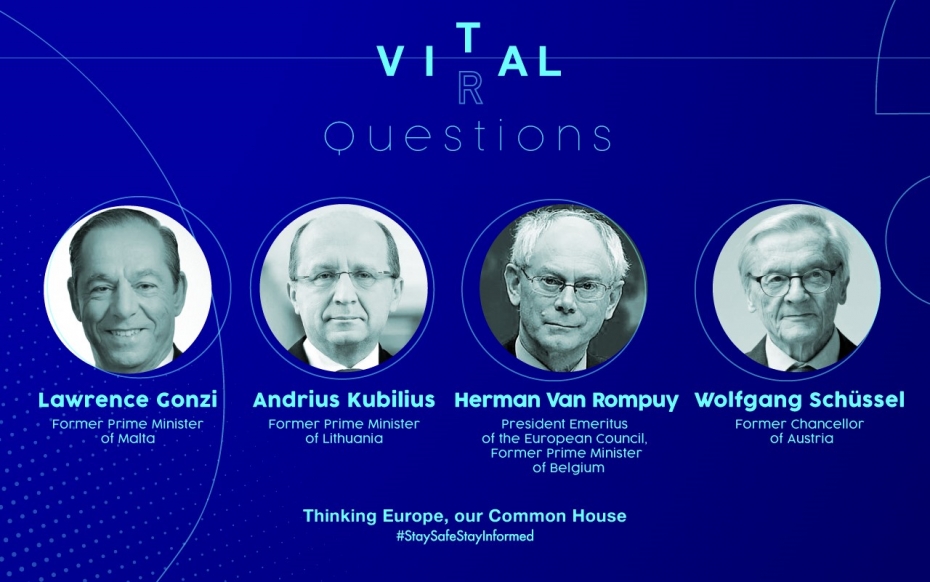 EU leaders seem to have agreed, at least in principle, that an ambitious recovery plan financed by EU bonds should be introduced and that the EU should have more competencies in the area of health care. Do you think the COVID-19 crisis is rekindling some federalist ambitions in the EU?
Lawrence Gonzi, Former Prime Minister of Malta:
"Rather than European federalism, I prefer to look at this as a question of European solidarity in practice. It is the realisation that we are all in this together, and we can only get out of it together. The recovery plan is welcomed – it is the response to calls for Europe to do whatever it takes. There are issues being negotiated that still need to be defined, so while this is welcome in principle, we have to ensure that all Member States' red lines on taxation and competitiveness, for example, are respected. But even with these outstanding issues, Europe is in a strong position, and there is a clear path for this recovery package to move forward. This is a unique opportunity to revitalise Europe's economy, making it fairer, greener, and more sustainable for all of us. We should not waste it."
Andrius Kubilius, Former Prime Minister of Lithuania:
"If by federalist ambition, we understand that some new European-wide instruments were created to fight the crisis, then we need to agree that since the Treaty of Rome, each crisis was pushing the European Community towards federalist ambition. Yet this is exactly what Jean Monet predicted: 'Europe will be forged in crises, and will be the sum of the solutions adopted for those crises'."
Herman Van Rompuy, President Emeritus of the European Council, Former Prime Minister of Belgium:
"I myself was not a big fan of the original plans for a Conference on the Future of Europe. I am in favour of it now, because this crisis has shown to citizens that 'more Europe' is needed. They found it strange that there were different kinds of politics in the Union regarding the virus, and they found it strange that borders were being closed and opened in a selective and dispersed manner. Many wondered where Europe was. They were unaware that the EU simply did not have competence for health. Europe is not a super-state! It also becomes clear that the EU is very dependent on medical supplies from abroad, especially China. We are already dependent on non-Europeans for digital platforms, energy, defence, and poorly protected external borders. Will we also be externally dependent for food tomorrow? The theme of European sovereignty has been raised; the conference could focus on this, instead of yet another institutional discussion that actually plays into the hands of anti-European forces. If one starts from the needs of the people, one can come up with pro-European decisions. The conference should not only question citizens, but there should also be leadership by formulating proposals and testing them with the public – a combination of top-down and bottom-up."
Wolfgang Schüssel, Former Chancellor of Austria:
"The EU budget for the next seven years needs sufficient resources. The United Kingdom, an important contributor, has left. New challenges, like the prevention of pandemics, President von der Leyen's 'Green Deal', the necessary protection of external borders, and funding an emerging common defence policy, underline the necessity for novel own resources for the Union. Let us add the intended recovery plan after the Corona crisis – and in this context, an open discussion without taboos about the size, use, control, and a repayment plan of such a huge programme is necessary. This may not be a federalist ambition but a better equilibrium of European and national competences."
Foreign policy and defence are essential areas for the EU's future. Would you agree that the European Council should take decisions on the common EU foreign and security policy by majority vote and not by consensus? And do you see PESCO as the main instrument to move forward and strengthen the EU's weight in the field of defence?
Lawrence Gonzi: "On the issue of common defence, I think our strength comes from our collective action and common purpose. On the one hand, having consensus on these sensitive issues lends legitimacy to the process and ensures that no Member State feels railroaded into a decision that it is not comfortable with on a sensitive issue. On the other hand, consensus means that their discussions take longer, and we are less flexible in how the Union reacts. On balance, my preference is to retain consensus in defence matters. That means more work for our negotiators and more need for States to compromise – but that is the only way all our citizens will feel involved in the process."
Andrius Kubilius: "I agree that Foreign Policy and Defence in the EU are critically important policies. In my view, Foreign and Defence Policies in the EU should not be the only ones decided by majority voting. Other policies should be included, because that is the only way to make the EU truly democratic and effective. PESCO is an important instrument, but more importantly, the EU needs to have a clear strategy on security and defence issues – determining where the EU is going to rely on its 'strategic autonomy', and where it will rely on NATO (or US) capabilities."
Herman Van Rompuy: "Of course, I am in favour of more possibilities for qualified majority voting. It should also be discussed in the Conference on the Future of Europe. To make the idea more acceptable, one could imagine a softer formula in which the opposition of a minimal number of countries cannot block a decision. This could have avoided the recent problems in the Council. With regard to PESCO: we must make a success of this first in order to envisage the next step. The final objective must be a genuine military dimension of the Union."
Wolfgang Schüssel: "The European Union should extend Qualified Majority Voting (QMV) procedures to foreign policy areas. In the future, sensitive decisions regarding China's policy and ambitions, but also Israel's prospective annexation plans of the West Bank, will require clear EU statements. Defence policy is probably too underdeveloped for QMV voting and needs, for the foreseeable future, consensual decisions."
Despite initial success in 2014, the Spitzenkandidaten procedure to elect the Commission President failed in 2019. How can it be reformed? And what other measures could help bring the EU closer to citizens?
Lawrence Gonzi: "I am a fan of the Spitzenkandidaten process, and I think it is a pity that it was not fully respected in 2019 – but I do not think that it is dead in the water. I would move to codify the process and therefore give increased legitimacy and certainty to the European Commission President and the entire image of our European Union."
Andrius Kubilius: "In an effort to bring the EU closer to its citizens, the role of the European Parliament should be strengthened with the power to initiate legislation, the power of parliamentary oversight of the executive branch, and the power of non-confidence towards individual Commissioners. This would make the entire EU architecture more democratic. The Spitzenkandidaten system was designed to make the whole process less dependent on a consensus in the Council. There are also other ways to overcome this problem: for example, deciding by majority vote in the Council when making a decision on the candidate for Commission President."
Herman Van Rompuy: "I've never been a supporter of the Spitzenkandidaten procedure. It hasn't brought the Union any closer to its citizens, and instead organised a pointless power struggle between the EU institutions. I would invest much more energy into the idea of a European constituency. Unfortunately, that concept quickly found its way into the inter-party political battle. It deserves a second chance."
Wolfgang Schüssel: "The text of the treaty is quite clear: the European Council makes a proposal, taking into account the results of the EP Election, followed by an affirmative EP vote, which is necessary. Politicising and personalising the election, and as a result the European Commission, is, in my opinion, a disputable option. It is better to put the substance of European policy at the core of the election and the alternative party programs."