CES launches the exciting 'Up2Youth' initiative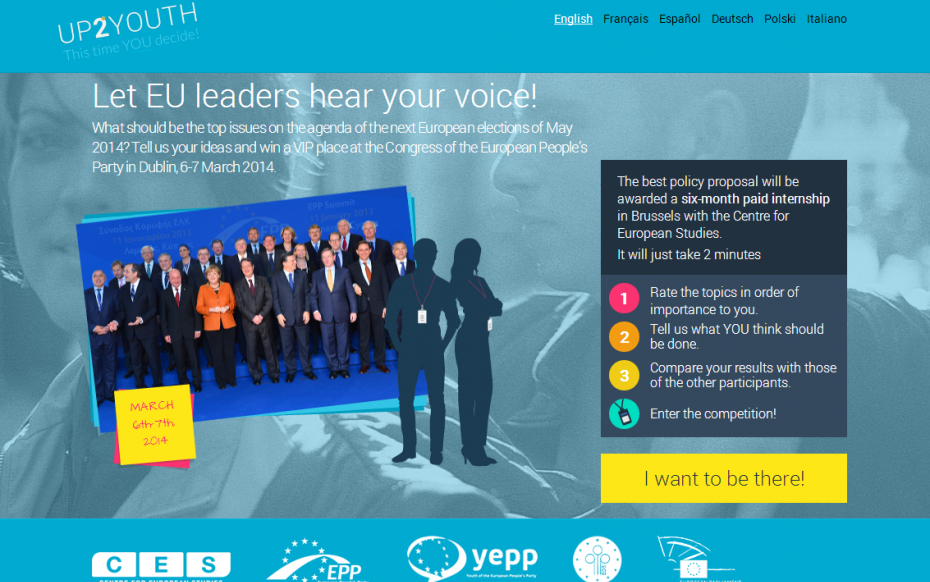 The Centre for European Studies (CES) has launched an exciting new initiative to gather the best ideas from the youth across Europe. The "Up2Youth" public opinion survey is an interactive, online initiative for young Europeans to express and exchange ideas on the issues that matter the most to them. From education to jobs, and from social policy to foreign affairs, the survey allows participants to address a wide range of issues, but in a quick and user-friendly way.
European People's Party (EPP) President Joseph Daul praised the initiative: "The Up2Youth survey is a fantastic opportunity for young people across Europe to make their voices heard, and the EPP is proud to be the first European political party to offer the youth the chance to share their ideas in this way. In view of the May 2014 European elections, politicians must listen to the youth, hear their concerns, and consider their ideas and solutions to the challenges we face. We look forward to the feedback we will receive and I can assure all participants that their ideas will be taken seriously by leaders throughout the EPP family, especially as we finalise our political platform for the 2014 European elections."
The President of the CES, Mikuláš Dzurinda, also applauded the Up2Youth project. "This survey will allow Europe's youth to tell EU leaders what is most important to them. I am confident that there will be no shortage of great ideas, and we are especially pleased to further the political process by serving as a platform for debate and discussion."
The ten participants offering the best policy ideas will be invited to the EPP Congress in Dublin, Ireland on 6 and 7 March 2014 to meet and share their ideas directly with EU leaders, including the EPP's candidate for President of the European Commission, who will be chosen in Dublin. Furthermore, the participant offering the very best idea will also be offered a paid, six-month internship at the CES in Brussels.
——————————————————————————————————–
To see the aftermath of the initiative, watch the reactions from the ten participants selected to attend the 2014 EPP Congress in Dublin: