I say Europe, you say…? Interview with Phil Hogan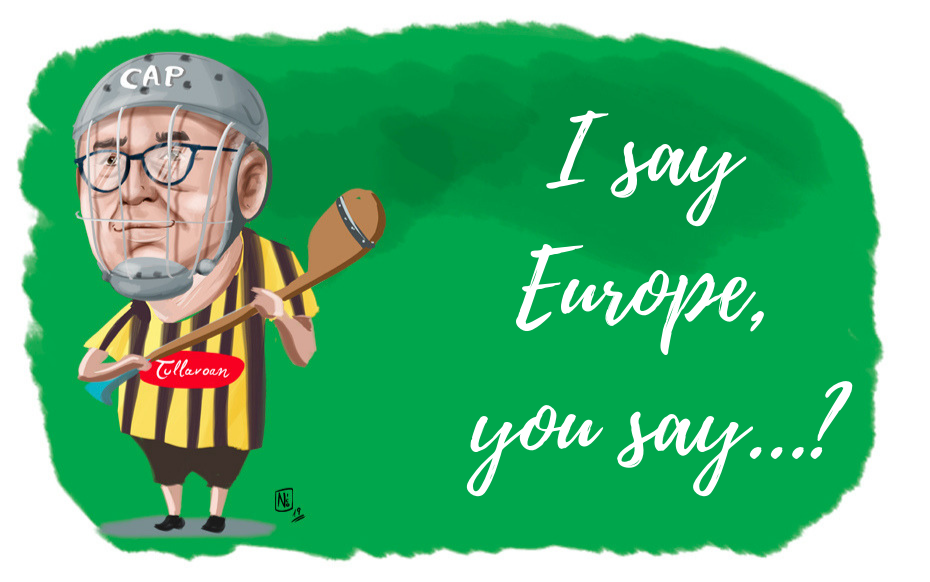 I say Europe, you say…?
When I think of the European Union, I always think of an old Irish word: "meitheal." It's an old tradition where people from the neighbouring farms came together to help each other, to save the crops, to save the hay. The essence of it was to be reciprocal, and it benefited everybody. This is the way I feel about Europe. When we come together, we devise a way in which we can work together. We share our sovereignty to some extent, but we help each other. And I think that Ireland, my own country, can certainly be a testament to this kind of solidarity.
What is the most interesting myth about the EU you needed to bust in your career?
Yeah, the first thing I suppose in my own portfolio, I had to debunk the myth that farmers were not needed in order to ensure that we achieved a number of our objectives in relation to public goods. You cannot actually have a good environment, a good landscape, you cannot have good conditions of food standards and food security without the participation of our farmers.
So, I had to convince people that if we want to have action on all these public goods, including growing ambitions on environment and climate action, we need people in the rural areas who will do this work for us. And I don't know of any other sector that can do this work except farmers, and we have to reward them. So, the common agricultural policy is a good vehicle in order to ensure that we achieve a lot in our public goods agenda.
You grew up on a family farm, so we wanted to ask you what your favourite chore was.
Well, first of all as a young person I was really thrilled when I could drive the tractor. And then of course, when I was a little bit older, I liked managing the dairy herd, particularly in the summertime, it's not so easy in the wintertime. But it was wonderful to see the cows eating the fresh grass and seeing the flow of high quality milk during the summer months.
You have said that the Common Agricultural Policy is "constantly evolving to meet the challenges of the day." What are the major challenges for agriculture going to be over the next decade or so?
I suppose generational renewal is always going to be an issue. We need to get more young people involved, it's a big disappointment that only 6% of the farmers of Europe are under 40 years old. And equally then we have to get our farmers to do more on the climate and environment agenda. They are the big challenges; protection of our natural resources, climate action, and getting more young people into the area of agriculture and the food business.
You have developed a reputation as a tough negotiator over your political career. What do you do to avoid "having beef" with your counterparts?
I respect everyone's point of view. And, you know, I think if we are good negotiators, we have to understand that there has to be an outcome that each side can sell to their respective stakeholders and constituents. And this is the basic principle which I apply to all politics: negotiation is a people business, and therefore if you respect people and understand their personal objectives in any negotiation you will hopefully be able to find an accommodation that is good for both sides.
This May, you said "we urgently need to tackle climate change and the degradation of our ecosystems if we want to preserve the planet for future generations." What is the EU doing to make the agri-food sector more environmentally sustainable?
Well, as we see in the Common Agricultural Policy proposals that we published in June 2018, we have doubled the amount of funding in relation to actions on climate, and we have to make sure that these targets are met by every member state, and by each sector, in line with the Paris international agreements. Also, we are linking every cent of the Common Agricultural Policy to climate and environment action in areas of conditionality, and in areas of direct investments. So, we have to make sure that our farmers play their part.
Your home county, Kilkenny is famous for its success in hurling, Ireland's national sport. Which Commissioner do you think would make the most formidable hurler?
Oh, I would certainly say the President of the Commission, Jean-Claude Juncker, he has mastered the concept of the political side-step – which is very important in hurling. He's always one step ahead of the game as well.
According to Eurostat, by 2050, the population of Europe's urban regions is projected to increase by 24.1 million people. By contrast, the population of rural regions is projected to fall by 7.9 million. How is the Commission going to tackle rural depopulation and revitalise our rural areas?
Well I am very conscious of this major challenge for the vitality and vibrancy of our rural communities. And this is why I convened all stakeholders in 2016 to a conference in Ireland, and we adopted the Cork 2.0 declaration for rural areas. And we are now implementing these proposals in the Common Agricultural Policy reform; which require investments by every member's state in rural areas.
Also in broadband connectivity, and in the concept of smart villages – which is putting the focus on village settlements to ensure that they have all the connectivity and social, economic and environmental capital that they need for people to live there. And if we focus on these issues in the context of our pillared funding in our Common Agricultural Policies and our Rural Development Policies, I think this would make a big difference in the next 7 years.
What are the three things you must have in your suitcase when you travel?
Well apart from the usual necessities I need an iPad, I need a good book to read for the long-haul flights, and of course I need to have the latest proposals and policy papers from the Martens Centre!
Ireland is going to be the EU member state most impacted by Brexit. How is the Commission preparing to shield Ireland's vital agri-food sector from the effects of the UK's withdrawal?
Well first of all the European Commission on the whole has really acknowledged the unique difficulties that would emerge in Ireland in the event of a hard Brexit, and this is appreciated by the Irish people. We now have 95% of the people of Ireland in recent surveys saying that they are very pro-European. So, I am very pleased about this. And Mr. Barnier and Mr. Juncker have made it clear on many occasions that it's Ireland first.
But of course, we are developing the necessary responses in all of the Commission to help all member states, including Ireland, in the event of a hard Brexit. And we will see in the event of a hard or soft Brexit that we're able to cope with some of the difficulties in Ireland. We want to maintain the peace process, and we want to maintain the strong trading relationships between Ireland and the rest of Europe in the event that we are cut off from some of the opportunities in mainland Europe by the bridge that we have through the UK at the moment.
So, many challenges, but European solidarity is very much appreciated in Ireland.
The EU recently signed off on a free trade agreement with Japan. What will the benefits for Europe be?
Well most of the tariffs have been eliminated, and particularly on industrial goods, and we have the biggest trade deal ever achieved by the European Union. Japan represents 120 million people, but it represents about a quarter of the world's GDP, and therefore it is certainly a contributing factor to the enormous amount of purchasing power for European and Japanese consumers alike, when we join together as 630 million people. So, this in agriculture and industry is a wonderful opportunity, and we already see the benefits of it.
Guinness or Kilkenny Beer?
Kilkenny; it's brewed in Kilkenny, my native city.
Which comes next: US or China trade deal?
US is to be expected, if they start to behave themselves a bit better.
The '1-hectare Initiative' or 'Trees for Kids'?
'Trees for Kids' because it's nice to see the young generation embracing the climate and environment impact of more deforestation as quickly as possible.
I say Europe, you say…? is a series of candid interviews with centre-right movers and shakers of the European project. From legislative work to food preferences, from weekday causes to weekend hobbies, we show you the human face of EU politics and its main protagonists.