Brexit and Trump: lessons for the centre-right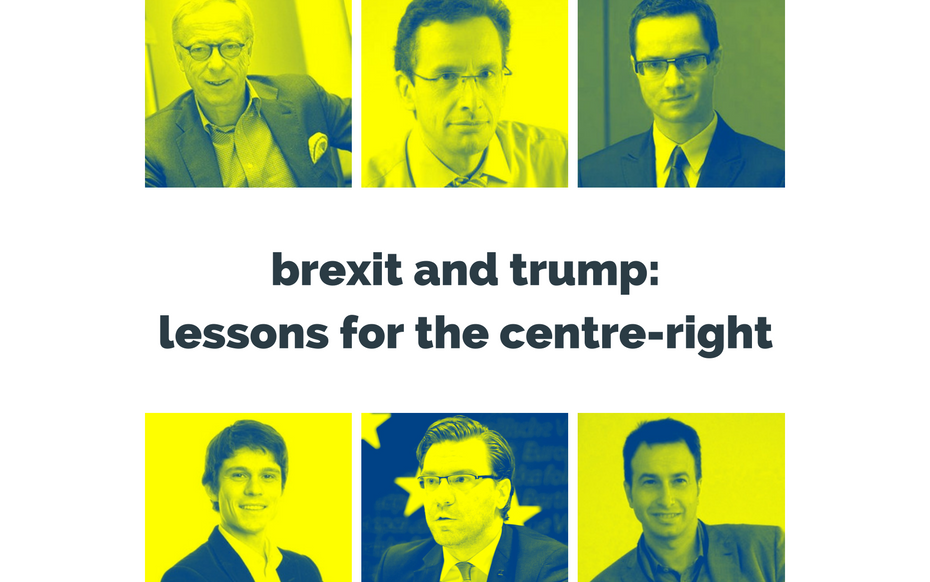 Britain's decision to leave the European Union and Donald Trump's election to President of the United States are events of historical proportion. In important ways, they challenge assumptions long taken for granted by both sides of the political spectrum. We publish below various contributions on the lessons the European People's Party should draw from these political developments.
Contributors are broadly connected to the European centre-right and offer a wide range of opinions on the topic under discussion. Some believe that an identitarian agitation is sweeping across the West, and that the centre-right should reclaim identity politics from anti-establishment movements and reconcile it with European integration, after having neglected it for too long. Others reject this analysis, downplay identitarian factors or see the return of identity politics as a purely populist phenomenon that should be opposed by all means.
A Europe of values and results
Benjamin Dalle,
Director, CEDER Study Centre
The recent developments in the UK and the US are reflections of discontent of large parts of the population with what is going on in their daily lives and their feelings about the future, which led to mistrust in traditional politics and in current leaders. The Brexit referendum is for many people the proof of a failing European Union, while the US presidential elections give rise to fears about the traditional multilateral approach and the strength of our transatlantic relations.
We believe that the EPP must emphasise the importance of delivering tangible results on all levels of government; results that improve the lives of citizens and which take into account the concerns of all EU citizens. For the EPP this will require strong leadership, vision and more unified action and opinions. Deepening and strengthening the European Union is also necessary, on the basis of our common values, such as democracy, human rights, the rule of law, solidarity and tolerance.
The confidence and involvement of citizens will be of utmost importance to restore the 'European Dream'. The dialogue between citizens and the European institutions therefore needs to be strengthened. That is why we believe the work of Luc Van den Brande as Special Adviser to EC Commission President Juncker to further strengthen the dialogue with the EU citizens is so important.
Stay firm and united
Gunnar Hökmark,
Member of the European Parliament
Now it is serious. These are the times that the European Union once was founded to meet. To secure freedom, democracy and peace in Europe. To provide stability in a fragile world. To develop a dynamic economy for prosperity and social cohesion. This is not anymore about ideological speeches but brutal reality.
It is a new world. More risky. More instable. It is the free world that is under threat and it is the world order from the years after the Second World War that is being challenged. The crises of today are not the crisis of the European Union, but it is these kinds of crises the EU was created to deal with. To give stability to Europe and give stability to the free world.
This challenge might be the most difficult we have ever faced. It is more challenging than reforming agricultural policy, establishing the internal market or launching the service directive. It is even more challenging than fighting bureaucracy.
The solution is simple but difficult. We must stand together, side by side. Reform our markets and deepen the internal market. Achieve an Energy union and a Capital Markets Union. Take the lead in the digitalisation of global economies. Stay firm to Russia and clarify that all parts of the Union are the European Union, be it Narva in Estonia or all the ancient capitals of Europe once behind the Iron Curtain.
Control our borders in order to ensure that the processing of asylum procedures is worthy of civilised societies. We must strengthen our military defence capabilities in order to be able to make use of our soft powers and proceed with the enlargement when countries are prepared. Reform Europe rather than create new divisions in the EU by ever new ideas of institutional changes.
Wanted: personalities with attitude and image
Nico Lange,
Deputy Director for Political Consulting, Konrad Adenauer Stiftung
Nobody had seen it coming. But within hours of the US presidential elections, many people apparently understood perfectly what had happened. Donald Trump's election was heralding the start of a 'global era of populism', newspapers said.
Taking a more analytical view, it is clear that there are significant differences between the US and Europe. Electoral and party systems, the media and election campaigning, personalities and the topics dominating the debate in the US do not allow any clear conclusions to be drawn for future developments in Europe. And populist parties, which have been gaining ground in Europe for some time, also differ considerably from each other.
However, there appear to be similarities in some of the underlying conditions that have facilitated the strengthening of populist mobilisation. The anxiety of the middle classes about losing status in the course of the processes of social change has increased noticeably in affluent Western societies. Differentiation in lifestyles and individualisation combined with high levels of immigration are causing feelings of one's culture being under threat and fears of a collective loss of identity.
There is evidently an added factor at play in that the aging section of the affluent society in particular perceives change as an imposition. People develop a defiant stance of rejection in the face of pressures to adapt to the consequences of the global economy. 'Make America great again' and 'Take back control' are populist responses to this frame of mind, which exert great attraction through the illusion of being able to return to a simpler, more predictable and manageable world.
Instead of shaping the future constructively, this is about recreating an imaginary past that never existed in the first place.
Brexit and Trump clearly illustrate that what we need are personalities with attitude and a good image, who look forward to shaping the future in a positive frame of mind and can develop 'dynamics of hope' rather than 'dynamics of fear' (Jean Monnet). Trump was only strong because of Clinton's weakness.
Cultural pessimism, doomsday scenarios and scaremongering have no place in Christian democratic politics. When looking around Europe, one can easily identify the leading populists. On the side of those who want to manage change with a confident outlook, Angela Merkel now stands almost alone.
We need to move beyond political correctness
Giovanni Maddalena,
Professor of History of Philosophy, Università degli Studi del Molise, Italy
From the recent US Presidential election and from Brexit we can learn some useful lessons. First, coalitions between the mainstream centre-right and centre-left do not work. The attempt to put together all 'responsible' people who belong to the mainstream intellectual culture of social-democratic values and globalised economic liberalism fails because it excludes the majority of the people. This coalition is doomed because it appears as an elitist project against which everyone else rebels and wins.
Second, we learned that we need a real left-right dialectic in order to fight the so-called 'populism'. An Italian example will clarify what I mean. In the recent municipal elections, the Five Stars Movement won in Rome and Turin where, at the second round, the race was between their candidate and the mainstream candidate. However, in Milan, where the centre-right and centre-left parties presented two different and credible candidates, the Five Stars Movement did not even qualify for the second round.
Third, we need to reflect about populism. In order to rebuild a successful centre-right one should look at the needs expressed by those who are voting for the so-called 'populists' and offer clear centre-right solutions that are distinctly opposed to the centre-left perspective. On Europe, for example, the idea of a 'slim federalism' that is strong on security and foreign policy but weak on internal economic regulation (real subsidiarity) should be adopted, together with a recognition of the Christian roots of Western values.
Finally, we should stop talking about populism as if it was an undifferentiated phenomenon. Although he gathered grassroots support from people who did not feel represented by US mainstream politics, Trump is a conservative. He won regular primaries of the GOP defeating 16 candidates. He then won the presidential election with sixty million votes and he has a strong political agenda. One might like or dislike his political platform, but make no mistake, he is not the same as Marine Le Pen or Beppe Grillo.
It's about communication, too!
Konrad Niklewicz,
Deputy Director, Civic Institute, Poland
Both the Brexit referendum and the US presidential election have demonstrated to what extent large parts of society disapprove of the political, economic and social status quo. One conclusion seems relevant to every liberal democracy: rapidly changing patterns in communication. The total dominance of online media – with the particular importance of social media – is coming.
Only a few years ago many believed that social media would strengthen democracy by allowing people to have a say and freely share information. This year proved that they were wrong. To a large extent, social media have become a source of misinformation, not information. Instead of strengthening public debate, they poisoned it with lies and inflammatory language. Instead of being the harbour of free speech, online-based platforms became the amplifiers of hate.
During the US presidential election, for the first time in history, fake news outpaced real news in terms of public engagement. More voters were exposed to lies than to the truth. Millions of voters were given a false picture of events. It would be foolish to think that this did not influence their voting decisions. In the last century, when new, revolutionary media appeared – the radio and later the TV – democracies decided to regulate them.
Democratic oversight and independent regulatory bodies were established. Laws were enacted to protect the impartiality and truthfulness of the broadcast. Like the printed press, the radio and the TV broadcasters were legally responsible for the content they aired. In case of online-based social media, no such regulations exist. We urgently need to think how to fill this void.
Identity matters
Dr. Žiga Turk,
Professor, University of Ljubljana
The message from the success of Brexit, Trump and some so-called populist movements in Europe is that identity matters. Identity matters, as particularly the US elections demonstrated, not only the minority identities of Afro-Americans, Hispanics, Gays, feminists, etc. Majority identity matters.
The scientific explanation comes from Moral Foundations Theory. It claims that people – voters included – often decide intuitively and not necessarily rationally. We base our intuitive decisions on six different moral foundations: care, fairness, liberty, loyalty, authority and sanctity. The progressives are generally associated with the first three of the six foundations. Conservatives, in addition, are associated with the foundations of loyalty, authority and sanctity as well.
In his campaign Trump successfully addressed the loyalty to America and the need for authority in American leadership. Meanwhile, his running mate Mike Pence covered the issue of sanctity of American Christians.
This is perfectly illustrated in a post-electoral tweet of Mr. Trump, addressed to protesters rioting against him: 'Imagine what our country could accomplish if we started working together as one people under one God saluting one flag.' To those of us immersed in political correctness this sounds almost like 'ein Volk, ein Reich, ein Führer'. But Trump's message is just a warning of what happens if the centrist democratic politicians fail to base their policies firmly on the entire spectrum of people's moral foundations.
The values of the liberal world order are not only democracy, freedom, respect of law and respect of people regardless of their origin, the colour of their skin, their religion, gender, sexual orientation or their political beliefs. Our common values also include loyalty to our culture, love for our homeland and respect of our traditions and religions.
It is the unique task of conservatives in general and the EPP in particular to bring those values back into the liberal world order in a positive and constructive way. The socialists and the liberals will not accomplish this because they lack intuitive understanding of it. If the EPP does not do it, someone else will. And then it will not be benign.
This balance of values is a unique contribution for preserving the world as we know it, a contribution that only the EPP can and therefore should make.