CES study on economic crisis discussed at Working Group of the European People's Party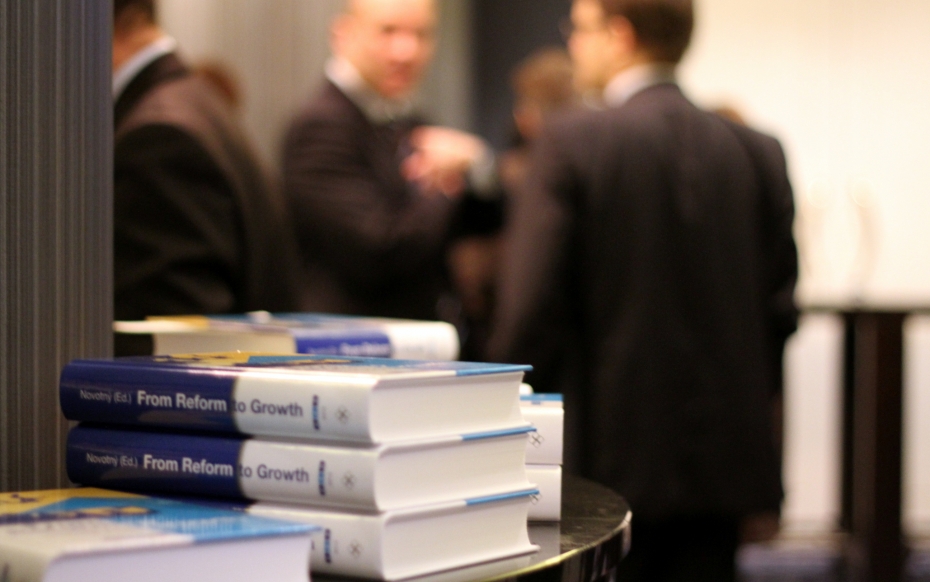 The latest session of the Working Group Economic and Social Policies of the European People's Party that took part on 4 December 2013 discussed the issues of reforms and economic growth. The book by the CES and its member foundations, "From Reform to Growth: Managing the Economic Crisis in Europe" served as a background to the discussion and provided arguments for the debate.
The book analyses government responses to the current economic crisis, covering nineteen European countries, and based on this, offers recommendations to policymakers at national, regional and European level. The book argues that lasting economic growth should be restarted by a combination of fiscal consolidation measures and structural reforms, which include creating flexible labour markets, functioning pension systems and efficient public institutions.
The discussion at the working group focused on the varying experiences that different European countries have had with managing their economies during the crisis. Countries from all corners of Europe have made significant attempts to reform and thus increase the competitiveness of their economies; others have a long journey ahead of them. There is a lot of scope to learn from one another and the participants mentioned inspiring examples. At the same time, it was stressed that economic formulas cannot replace a policy focus on people's personal development and welfare.
The European People's Party operates several working groups in which experts and representatives of member parties take part. The agenda of the Working Group Economic and Social Policies is to debate economic policy challenges and strategies.
The book has been officially launched earlier this year during the fourth annual Economic Ideas Forum, which was held in Helsinki during 6-7 June 2013 and gathered high level European and national policy-makers together with economy experts. Several other launching events took place in other EU capitals, including Brussels, Berlin (organised by the Konrad Adenauer Foundation) and Tallinn (in cooperation with the Pro Patria Institute).